EDIT//: This case is now available for purchase!
For one of my oldest friends' 30th birthday – a true milestone – his fiance bought him a restored straight razor from 1903, along with a badger brush and stand. She asked me to make a toiletry bag that would suit the new set since he's a musician who's always on the road (wearing our guitar strap!).
Drawing on my experience coming up with the wet-shaving kit last year, I knew that it would need to have a place to hold the soap, brush, and razor in one place so that they don't get knocked about, also allowing the brush to dry. Since he already was using a 'military wet pack'-style toiletry bag, I wanted to re-create the same style, but focusing on fixing the design flaws he found in his existing case. What resulted is this hybrid – it's an amalgamation of all the best parts of the vintage shaving cases from the 50's, a military wet pack, and a traditional DOPP kit.

I asked his fiance what he regularly carries, what he needs easy access to, and how much space he requires. Since he wears contact lenses, I wanted to make sure he could easily get to his solution and lens case – which is what the middle section is for.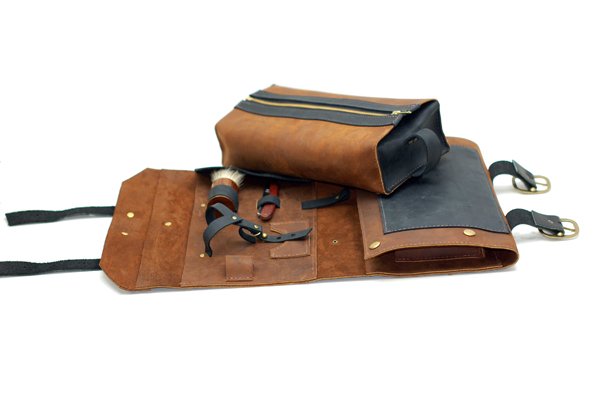 The Dopp Kit at the bottom is perfect for holding his electric toothbrush, shampoo, gel and toothbrush. He takes a lot of these things to gigs regardless of whether or not they are over-night, so I made it detachable from the roll for when he just wanted a 'day bag'.
To add more storage space, there's a zippered pocket in the back, since his fiance mentioned that he likes to have things like nail clippers with his toiletries, but they aren't regularly accessed.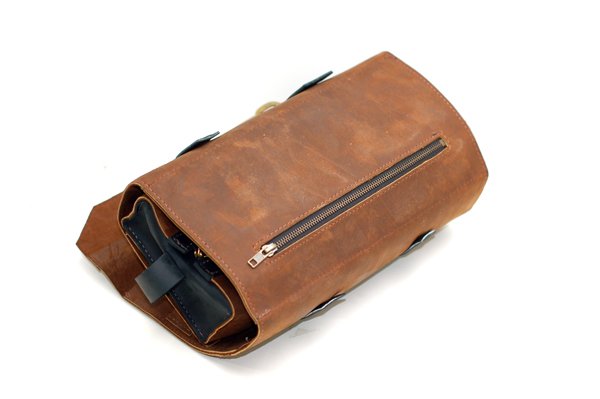 I also added an extra sleeve pocket on the bottom in case there's any other miscellaneous items that need storing. In that pocket I laser engraved a note from his fiance wishing him a happy birthday onto vegetable tanned leather, so he'll always have a reminder of her while he's on tour.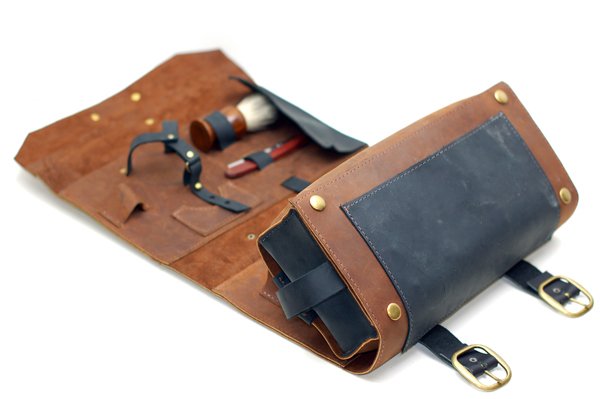 The roll has adjustable buckles so it can accommodate a lot or a little – just by adjusting the straps. If you remove the detachable dopp kit bag, it packs down quite flatly, handy if you find you need to play tetris in your suitcase.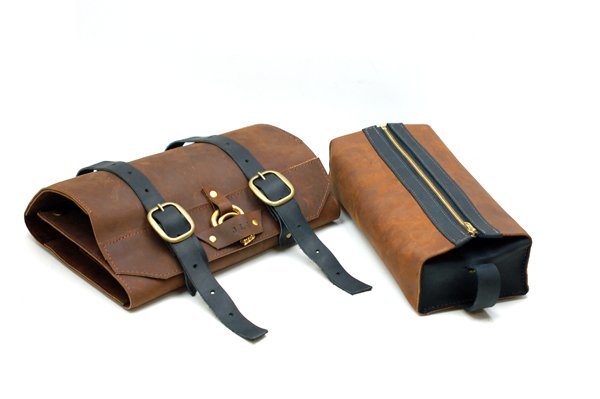 The finishing touches include an actual folding horse hoof pick as a hanging hook, and his initials monogrammed on the front of the case. Made in contrasting rich brown and black oil tanned leathers, it looks like a little treasure chest.