Ever wonder how we come up with some of the designs that we have? Some are our own take on a classic shape or style, others are completely thought up out of our imaginations, and others still happen by chance and occasionally accident: our Barcelona bag is one of the latter.
It was the first laptop bag I ever made, and I was excitedly nervous about using so much leather all at once. I remember laying the piece of hide out (the first bag was made in our Mahogany Oiled Tan) and seeing such a perfect natural curve. I folded it appropriately to fit a laptop bag, and, still feeling gunshy about cutting such a large chunk of hide, quickly snapped a picture and sent it to Dave to ask what he thought.
From there, the bag began to take shape – receiving its signature cross strap and swing clasp closure
All that was missing was the strap. I had been working on a belt at the same time, one that split into two parts as part of the accent – and for some reason it occurred to me while sizing the belt to slip it over my head. Dave looked at it and immediately suggested we use it as the strap for the laptop bag. It was perfect – the harness style distributed the weight between both shoulders making it easier to carry a heavy laptop for long distances, and it looked pretty darned cool too. It's amazing what happens when you're goofing around and accidentally stumble upon something incredibly utilitarian that moves on to become one of your signature pieces!
That first bag we made sold immediately – and we've been making the Barcelona ever since.
The great thing about doing what we do is that we're always learning, growing, improving, and advancing. In the short year that we've been making this bag, it's grown up a lot. When we got Madeleine, our industrial leather sewing machine (the first Barcelona's were sewn with a domestic machine!), we did another photoshoot for the new and improved bags, sewn with nylon thread.
Around the same time one of our friends suggested we offer the Barcelona with a standard, conventional padded shoulder strap for those who thought the harness was a little too much aesthetically. We decided it was a great opportunity to offer the Barcelona at a lower pricepoint- since the simpler strap took less time to make. So we started offering both options, allowing people to choose between the two strap choices.
Fast forward to today and we keep making the Barcelona better. Most recently we've improved the look of the bag by adding topstitching along the border of the flap and cross strap – not just because it looks more finished, but because the stitching limits the leather from stretching too much, keeping the bag's shape in tact. We also tweaked the shape slightly to allow the shorter part of the flap more coverage – we want you to be able to fill the bag to the brim and have everything protected, after all!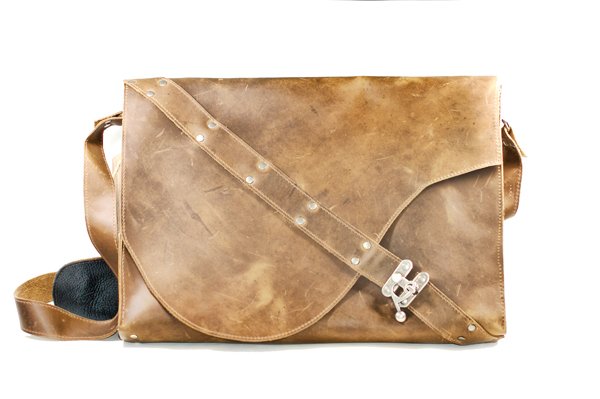 So what do you think of the evolution of our very first laptop bag? What else would you modify?